Loon Rescues
June 29, 2018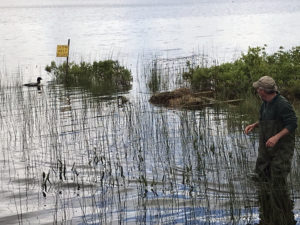 From Blaine Odgen on Monday June 18:
I woke up this morning after 2 inches of rain and went to check the loons nest which was under water I found one egg and put it on shore then Bob MacLean and I dragged Bob Crowell's floating nest down and put the egg on it. We then checked the other nest and it was almost sunk and she was scrambling to keep it floating we immediately made a float and put the nest on it. Both loons are now sitting on their high and dry nest .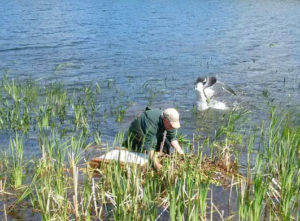 From Bob MacLean later on Monday:
One loon is still sitting on her nest but the temporary floating nest was too unstable and, although one loon climbed onto it, it proved to be too tippy and we think the 2 eggs rolled off. That pair are now traveling on the water together. Maybe they'll try again. We are building a better designed floating nest in the morning.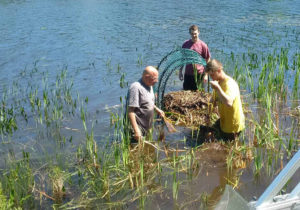 And from Bob on Tuesday:
A new Luxury Loon Condo was constructed and put in place on Tuesday….